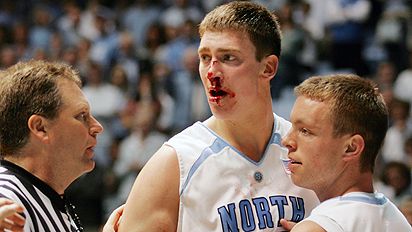 UNC Sophomore and alleged necrophile Tyler Hansbrough was injured Sunday while knob swabbing. Hansbrough, who earlier last week admitting to enjoying pedicures and butt-sex, said that he lost control of the knob and it came round and hit him in the nose.
Hansbrough said after the game, "You know, in my 2 years here at UNC I've taken a lot of shots in the mouth and even one or two in the eye. But this was the first I've taken in the nose."
Here's to a speedy recovery.